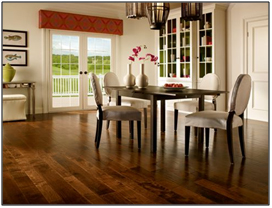 Flooring choices have expanded in recent years to include many new types of materials and finishes. It can be a bit overwhelming as a home owner to try and determine what type of flooring is best for your latest project.
The most exciting changes have happened in the area of vinyl flooring, especially for the basement where hardwood flooring is not a wise choice due to moist conditions from the ground below.'Luxury Vinyl' is now being manufactured in durable, easy maintenance planks with the very realistic look of wood. These planks are available in varying widths and patterns, and are becoming one of the most popular trends in today's vast array of flooring options due to their durability, versatility and affordability.
Luxury Vinyl plank flooring provides a great warmth and texture under your feet, whether they are used in the basement, that study or the kitchen.
They're available in a glue-down type of installation or in click-together ease, with an optional liner which provides an effective moisture barrier in damp conditions. The colors and styles run the gambit from a 7-1/2" wide plank rough-hewn texture, to a narrower 5" smooth hardwood look in colors ranging from grey and ebony to oak and cherry.
Luxury Vinyl now also comes in many "look alike" versions resemblingporcelain and ceramic tile, a cleaner look and upkeep without the need for grout. They are warmer to the touch for bare feet, and are not nearly as fragile when things are dropped on them!
If you would like to know more about the 'new' vinyl as an option for your home, give us a call and we can help you explore!
Confused by all the choices? Is the stress of choosing colors, fabrics, furniture and surfaces overwhelming you? Then let KT Interior Designs help you create the ultimate home environment- stress free!