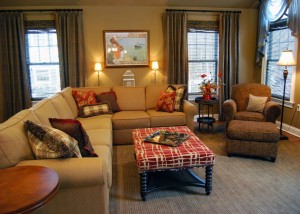 One of the greatest challenges with moving is trying to figure out the best way to place your old furniture in the new space. Everything is a difference size, the windows and door are in all the wrong places and nothing seems to fit right!
However, with a bit of creativity and 'thinking outside the box' it is possible to create a harmonious whole from old furniture, re-purposed furniture mixed with new furniture and accessories.
The first step is to do a floor plan of the new house and experiment with where you think the old furniture would best be placed. Often, space issues can be identified at the 'plan' stage instead of having to drag furniture around a room until it feels right. (This is much less stressful than making the moving men cart furniture from one side of the room to the other on moving day to see how it looks!)
Secondly, you need to look at the paint on the walls in the room, versus the color of the furniture. Does it coordinate or clash? If it clashes, is there a way to reupholster, re stain or otherwise re-purpose the piece so that it does blend in?
Thirdly, don't be afraid to put furniture into another room, or re-purpose it all together. A large chest of drawers may not now not fit into a bedroom – how would it look as a side piece in the dining room to hold plates and silverware? Maybe a left over side table from the living room will fit into the powder room to hold flowers and magazines.
If trying to make everything fit is making you crazy, then invite KT Interior Designs in to give you some assistance! We can simply consult ant give you the ideas to implement, or we can take the whole project off your shoulders and make it all work! We are only a phone call away!