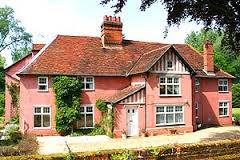 There are many reasons for a family to consider moving – a house that is suddenly too small because of a growing family, aging kitchen and bathrooms need updating, weather has taken a toll on the exterior, just to name a few!
However, there are many factors to take into consideration when deciding whether or not to 'move or improve'.  While moving to a new house may be attractive, you need to really consider how much it will cost to make enough necessary updates in order for the house to sell, can you buy a comparable house in the location you want, and how long will it take to make it all happen?
While the real estate market has really been on the upswing lately, it can still take several months to sell.  You then have to juggle the timing of selling with purchasing a new home, organize moving,  deal with old furniture not fitting into the new house. . . .
On the flip side, there are also many details to consider when looking at improving your home.  Can you improve in the existing footprint, or do you need to extend?  If you invest in a full remodel, will the value of your home go up by a similar amount?
If you do your homework and decide it makes sense to improve, make sure you talk to our KT Interior Designs!  We can recommend reliable contractors, help with all material selections and ensure everything runs smoothly throughout the whole project.