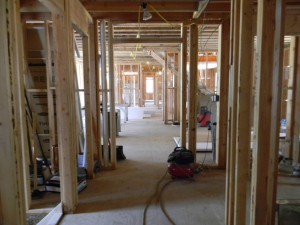 When it comes to building an addition or a new home, there are many choices to be made. As an Interior Designer, I work with my clients and their builder to ensure that all of the choices made work together.
While the architect will have put together the plans in terms of what size the windows and door should be, often the choice of finish is left up to the client. Add that to the choices that need to be made for trim, baseboard, crown molding, door type and finish, light fixtures, plumbing fixtures, flooring and wall finishes and it can be a mountain of choices for a client to climb.
My job is to work with my client to determine what their style is and what is the function of each room. This will have a bearing on what choices are made. We usually begin with catalogs to narrow down the variables, and then often it is necessary to go view things in person to determine just the right choice. I will then take clients on a tour of showrooms and stores for them to view their choices before ordering.
By making sure that all choices are made and all items are ordered, this ensures that everything is on site and available when the contractor reaches for it.
If you are a contractor who would like an experienced professional to guide your clients, or if you are a client overwhelmed by variables, give us a call! We will walk you through the entire project, making sure all of the choices work harmoniously together to ensure an end result that the client will be proud of for many years to come.