Interior Designers Bedminster NJ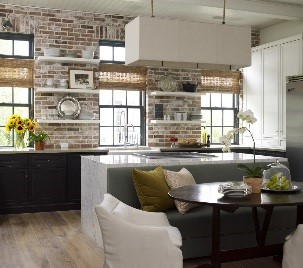 No matter the purpose of your space, KT Interior Designs, a professional interior designer Bedminster NJ, can help you to create a unique and stylish design for any environment. Here are some considerations we keep in mind when collaborating with you on a new design.
Space Planning
The purpose of a space, and what will take place in it on a day-to-day basis, should be the starting point of your design efforts.  Defining the needs of a particular space will vary from person to person, so an interior designer can present options for future design elements based on this initial planning.  Bathrooms, kitchens, and bedrooms all require different functionality throughout our lives.  This will form the basis of the personality, style, and feel of the room.
Color Consultation and Planning
Color is the most important part of any space.  It defines the mood of the room and conveys the nature of the space and its owners.  Color should be an accent and a subtle addition instead of overpowering the style of a space.  It should work together with the furniture, architecture, and other elements in the space.  The room should also transition well into the rest of the house.
Our interior designers utilize an array of tools to help with a home walk-through and color consultation, such as large color swatches, palettes, and paint fan decks.  These reference materials will benefit our discussion of color, with a few important questions:
What is the overall purpose of the room?
Is there a focal piece to the room that should inspire the color palette? For example, is there a favorite lamp or piece of furniture that should be highlighted and showcased?
What rooms are adjacent to the room in question? Are other rooms changing as well?
How bold should the room be? What is your "color tolerance" when it comes to certain colors?
What type of light do the rooms typically receive now, in terms of both natural and artificial?
The professional consultation will show you that interior design services are greatly beneficial to planning a new room, or changing an existing room's style.  Of course KT Interior Designs will always consider your budget and style preferences first and foremost.  Many of our clients can attest to our interior design knowledge and skills when guiding Bedminster homeowners through the design process.
Furniture Design
KT Interior Designs works with specialty manufacturers and designers of furniture, in case you cannot find ready-made furniture to go with your space.  Our suggestions and options are always cost-effective and we make sure to keep your budget in mind.
Lighting Design
Along with color planning and design, nothing else can radically change the look, feel, and mood of a room than the lighting.  Not only will we create appropriate decorative and accent lighting, we'll assist you in designing the functional lighting of a room.  It will look great and be useful illumination no matter the room's purpose.
These days there are many new options for lighting than were available in the past.  Unique and custom-made lighting for a room is less difficult to integrate than many people realize, and our interior designer will help you find the perfect design solution for your Bernardsville home.
Communities we Service
Looking for professional interior designers near you? KT Interior Designs offer all interior designer services and consultation for residents of Somerset County, Morris County, Essex County and Union County, including the townships of Bernardsville, Bedminster, Bernards, Branchburg, Bridgewater, Far Hills, Chatham, Harding, Madison, Mendham, Morristown, Mountain Lakes, Parsippany, Caldwell, Cranford, New Providence, Summit, Westfield and other surrounding NJ towns. We also have clients and offer our services to NYC residents. Call us today for free consultation (908) 301-0017.