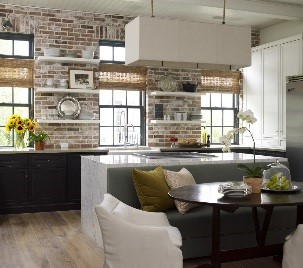 Trends in interior design are always changing. Every few months popular items and patterns seem to fade away to make way for the next 'happening' furnishings, accessories and colors. It is always a challenge to find the right balance between 'flighty' trends and timeless décor. While there are no permanent trends in interior design, there are some classic styles that last much longer than others.
While wall paper seems so 1990's, in recent times it has been making a comeback. One factor is that the widespread use of neutral colors and gray's sudden popularity have meant that home owners are looking for a quick and easy way to introduce bold patterns and textures into their interior décor. I happen to like wall coverings very much, especially when applied to the walls of small spaces where one passes through quickly without lingering, such as a small foyer or powder room.
The squeaky clean look of the 1980's and 90's saw the timeless design of the exposed brick wall delegated to the 'back burner' of interior design. However, this design feature is making a comeback, as home owners realize that the touch of history and heritage that an exposed brick wall brings adds value. This brings both visual and textural contrast to any room, as well as dimension.
Returning to a simpler time seems to be a reoccurring theme in interior design, as bohemian style interiors are also making a comeback, along with Mid-Century modern, Vintage and Retro.
What we specialize in is helping clients blend their own personal preferences with current trends and timeless classics to create interiors that will stand the test of time.
Call us for a free initial consultation!